2014 Awards and Accolades
The hard work, diligence and expertise of the people of Henry Goh continue to be recognized by our clients and industry peers around the world through the latest accolades and awards conferred on the firm and its leading professionals.
Managing Intellectual Property [MIP]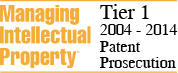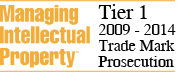 Henry Goh has been ranked yet again in Tier 1 for trade mark and patent prosecution work in Malaysia in MIP's World IP Survey. This marks the sixth successive year in which we have held such a position, evidencing a remarkable consistency in the high standards of work to which we subscribe.
MIP's annual worldwide survey of IP firms is conducted by a team of researchers based in London, New York and Hong Kong who seek feedback and opinions from firms and clients in 80 jurisdictions. The tiers reflect the perception of the leading firms in each market, with the top tier covering those firms having the strongest practices.
IP Stars

We are extremely pleased to announce that in addition to the above recognition awarded to our Firm, four individuals from our office have now been recognized as an IP Star in the 21st edition of the MIP Handbook in Malaysia. The research that has just been concluded for the said handbook has identified Ms Tham Sau Yin, Mr Dave A Wyatt, Ms Azlina Aisyah Khalid and Ms Oon Yen Yen individually as 'expert of experts' in Malaysian IP Law.
The MIP Handbook is the indispensible reference guide and directory for global in-house counsels and international firms since 1993.
World Trademark Review [WTR]

For the second year in a row, Henry Goh is the sole IP agency to achieve Gold Band status in Malaysia in the WTR 1000 guide to the world's leading trademark professionals. Furthermore, our Ms Azlina Aisyah Khalid is listed again in this guide as one of Malaysia's Recommended Individuals.
WTR 1000 is a comprehensive guide to the trade mark legal services market. All of the individuals identified in this publication are included because they received substantial positive feedback during WTR's exhaustive qualification research process. The leading firms are identified based on factors such as depth of expertise, market presence and the level of work on which they are typically instructed.
Intellectual Asset Magazine [IAM]

Henry Goh is listed as a Recommended Firm and our Mr Dave A Wyatt and Ms Oon Yen Yen are identified as Recommended Individuals for Malaysia in the IAM Patent 1000 guide to the world's leading patent practitioners.
IAM Patent 1000 is the world's most extensive guide to leading private practice patent professionals and firms in the world's key jurisdictions. It is dedicated to listing, and writing about, best-in-class patent prosecution, licensing and litigation practitioners on a global basis. As a result, it is an invaluable source of information for those looking to identify market-leading patent expertise at both the individual and firm level.
Asialaw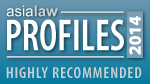 Finally, Azlina and Dave are again included in Asialaw's Leading Lawyers for their contributions in the field of Intellectual Property. At the same time Henry Goh is identified as a highly recommended IP firm in Asialaw Profiles.
Asialaw's guide to Asia-Pacific's leading lawyers is the result of an extensive survey of senior corporate executives, in-house counsel and private practice lawyers who were invited to nominate leading legal practitioners who continue to exceed client expectations. Each practitioner listed has been nominated and endorsed by clients and peers for the quality of their work. The annual Asialaw Profiles guide is extensively researched, written and edited by a team of journalists based in the region. Coverage includes firms' key practice areas and specializations, client feedback and recommended individuals.
"These awards reflect a vote of confidence in Henry Goh by the worldwide IP community. They serve to strengthen our resolve to enhance our professionalism and customer service to even higher levels."
Karen Goh
Managing Director